Make the Most Out of Christmas and Create the Ultimate Festive Menu
Christmas is just around the corner! Have you started thinking about the festive menu you will offer to your customers or are you sticking to the menu you already have?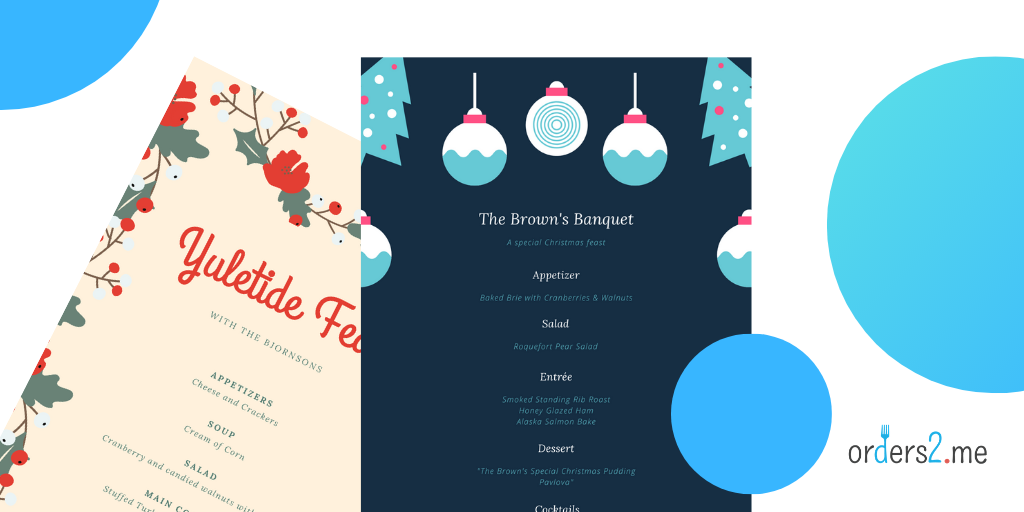 Why should you offer a festive menu during the holiday season?
In order to make the most out of Christmas and holiday season, you should definitely think about offering a festive menu to your customers. This is the time when people are rushing to restaurants to celebrate with their loved ones and they will certainly expect at least some holiday specials that will get them into the holiday spirit! And if you want to use this season to your advantage, here is what you can include in your menu.
Christmas drinks
This is the easiest way to include Christmas in your festive menu! There is a huge variety of drinks that can easily be made and that don't require too much effort. For example, you can include mulled wine, which is one of the winter/Christmas favorites around the globe. This drink can be made quickly because it doesn't require your bartender to do it separately for every guest. You can prepare it beforehand and serve it to your guests, thus saving a lot of time and energy.
Another drink that you can think about including is the famous eggnog – what is Christmas without eggnog? This is definitely another drink that you can make beforehand, so these small changes to your festive menu won't require too much effort, but your customers will definitely love you for it.
Christmas dishes
Even though there is no need to change your menu completely and turn it into one big Christmas meal, there are definitely small bits and pieces you should include to make it more festive. Let's take creamy mashed potatoes for example, which are one of the favorite Christmas side dishes. You can ask your chefs to add some special spices and create a fun side dish that customers will enjoy ordering and eating.
Another fun way to include Christmas dishes in your restaurant festive menu is to create tasty entree dishes and pastries. These usually don't take too much time to make, so your chefs won't have to work too hard to make them. For example, you can consider including mouth-watering cheese balls and soft buttery bread rolls with different spices. These will certainly be a favorite among your customers and they will order them throughout the entire festive season.
One thing that you can do for sure if this sounds like it's too much effort is to discuss with your chefs how you can make the dishes you already serve a bit more Christmasy. Let's say that you already offer turkey to your customers. Maybe your chefs can use spices and sauces that are traditionally used during Christmas to give these meals a more festive twist. Just know that whatever you decide to do, your customers will appreciate the effort you made.

Christmas desserts
Who doesn't like Christmas desserts? They offer a variety of flavors, textures, and fragrances that make your heart skip a beat. Luckily for you, since the holiday season allows you to make whatever you want (as long as it is creamy, sweet and indulgent) – you should be good to go. 
Try adding some traditional desserts such as gingerbread cookies or sticky toffee pudding. Or play around with flavors and include some creamy, chocolate desserts that no one can say no to. It is completely up to you, so play around a bit until you find the right combination for your restaurant.
It would be such a huge waste of holiday season if you didn't include some new holiday meals and created a festive menu. Don't let this incredibly busy time of the year go to waste and boost your sales by including some fun, tasty meals that will make your customers come back for more.
If you need any help with changing your menu just in time for Christmas, get in touch with Orders2Me experts today.