3rd Party Delivery Services and Ordering Portals are the Equivalent of Digital Pirates
These days, everyone expects everything on demand. Whether it's clothing, furniture or entertainment, businesses are supposed to offer their products at the push of a button. Nowhere is this shift more noticeable than in the restaurant industry with the increasing need for 3rd party delivery services.
Not that long ago, if you wanted a restaurant to deliver, you had to hope that they employed drivers and that you were within their area. If not, then you had to go in yourself. There were no other options.
3rd Party Delivery Services and Ordering Portals
Today, though, there are plenty of 3rd party delivery services and ordering portals that have expanded the delivery system to include almost every restaurant under the sun. You want sushi to come to your door? Just order through an app like GrubHub, Beyond Menu or Postmates, and it will arrive shortly thereafter.
For the consumer, this change has sparked a revolution. No longer are you limited to Chinese takeout or pizza to satisfy your cravings. Now you can order what you want, when you want it, without any problems.
But what about for the restaurant? At first glance, third-party apps may seem like a good idea – after all, they're increasing your business, right? Well, it turns out that that's not always the case. In fact, they could be stealing money from you, and you wouldn't even know about it. Lately, our team receives daily calls from restaurant owners who find that their restaurant has been hijacked online.
Let's see how this scam works.
Google My Business
It all starts with your listing on Google. Considering that this search engine has more than 60 percent of the market share, the vast majority of people ordering food are finding restaurants via Google. However, when they click on the link, they may not be going to the correct page.
As a restaurateur, you want to make sure that all of your customers are visiting your site, not someone else's. If they're not, then how can you be sure that you're representing and marketing your brand effectively?
Unfortunately, many brick and mortar locations fail to stake their claim on their Google My Business page, which can cost them a lot in the long run when a third party app comes in.
How Third Parties Hijack Your GMB Page
Let's look at a particular example to illustrate our point. The app "Beyond Menu" is a delivery service that contacts businesses to let them know that they are being listed on their app. They assure restaurants that they will increase their delivery orders, guaranteed.
To the business owner, that can sound appealing at first, but once you realize what they're doing, it becomes less satisfactory.
In the case of Beyond Menu, they are creating landing pages that are connected to the Google My Business page. Thus, when a customer clicks on the link to place an order, they are not doing so with the restaurant directly, even if they believe that's the case.
Because the business owner does not represent the page, it can lead to a host of problems. Let's outline the various ways that it can be detrimental to your enterprise.
What's the Harm?
For these apps to operate, they have to charge a fee for every order. Typically, this can either come out of the customer's pocket or the restaurants. With Beyond Menu, they opt for the latter situation. They claim that their 5 percent fee is a bargain considering how much business they're delivering.
But that's money out of your pocket.
What makes it even worse is that they could be misrepresenting your brand. If you update your menu and your prices, Beyond Menu app may or may not list those changes. Thus, a customer could be ordering something you don't offer anymore, or you could be charging them more than they expect.
In case of a complaint, who do you think a customer is going to call? Not Beyond Menu, since they are not the ones who made the food. Instead, you are going to get complaints and bad reviews online because your prices are wrong, the order was incorrect or because of another issue that was beyond your control.
When you're not the one in charge of how customers order their food, you are at the mercy of the third-party app. Regardless of their improper methods, you're the one cleaning up the mess.
Take Postmates, for example. This service allows customers to order anything from anywhere. However, when they're ordering from high-end restaurants, their food is usually not what they're expecting, so they call the business to complain.
The restaurant doesn't have a say in what the customer orders, so people can be ordering items that are not ideal for delivery. However, restaurants have found that it's nearly impossible to correct the issue or remove themselves from the Postmates app. Instead, the problem persists, and they're the ones with the bad reviews.
Case Study: Kosher Deluxe
Isaac Weiss is the owner and operator of Kosher Deluxe, a fast-food restaurant that has served New York City's Midtown/Diamond District for more than 20 years. We started working with Mr. Weiss and his team in 2014. We designed and developed a custom mobile-friendly website and integrated our flat-fee online ordering system.
Mr. Weiss had recently seen a drastic increase in the number of orders Kosher Deluxe was receiving from Beyond Menu — and a concerning decrease in the number of orders the restaurant was getting organically through their flat-fee online ordering system. After a quick review, our team found that Kosher Deluxe's GMB listing had been hijacked by this partner.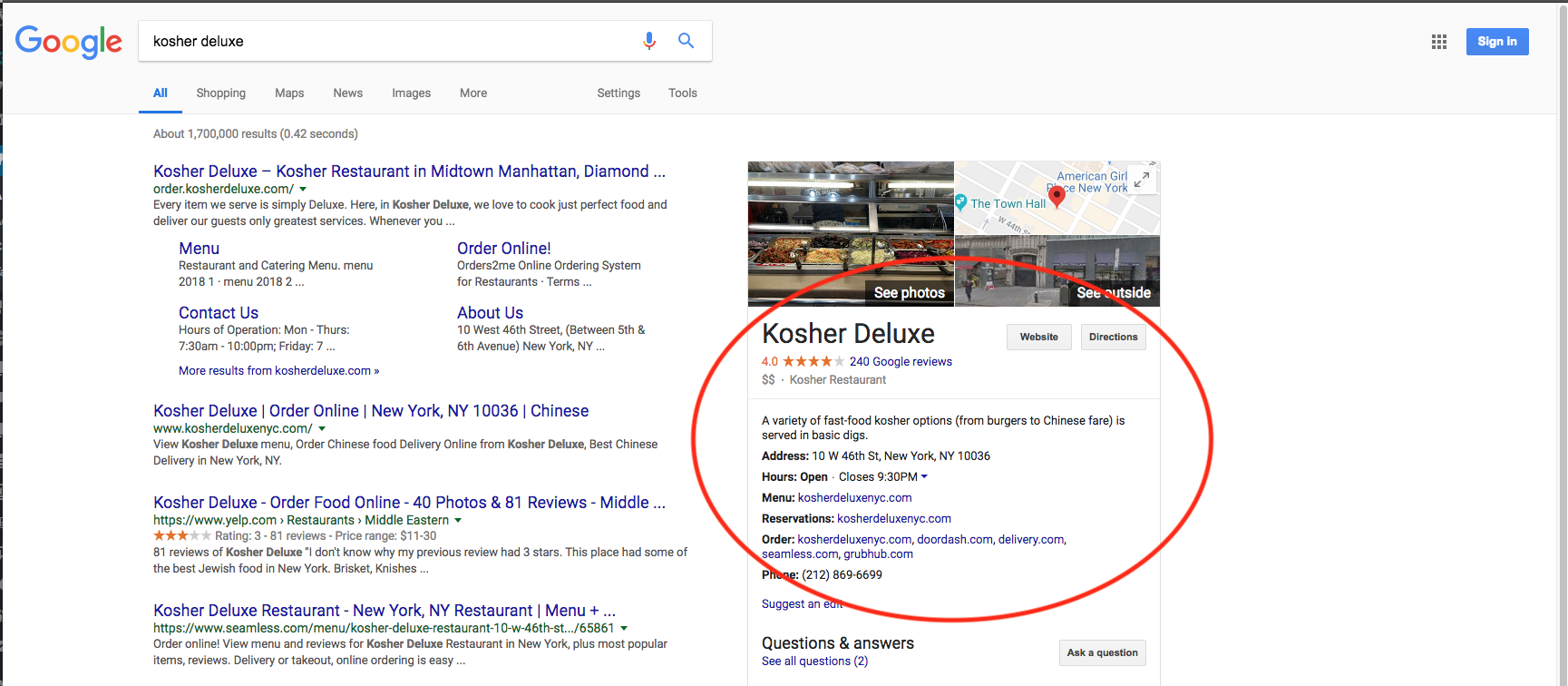 A Google search showed that the listing was redirecting customers to www.KosherDeluxeNYC.com, a domain registered under Leon Chen of KydiaOnline.com.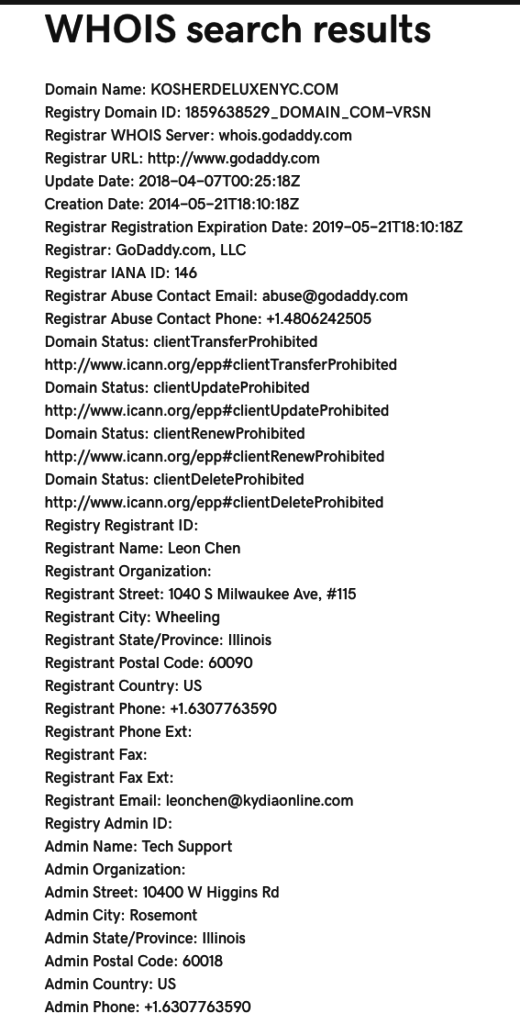 Beyond Menu had taken over his page, designing it to look like Mr. Weiss' site for Kosher Deluxe. That misleading design not only confused customers, but took business from Kosher Deluxe, as Beyond Menu added on and collected fees that should never have been charged.
What did we do about it?
Our team quickly took action. We helped Mr. Weiss create a cease and desist letter, which you can view here. He sent the letter — and it worked!
He regained control of his Google My Business Listing, and it now directs customers to the correct website for his business. Mr. Weiss was willing to take immediate legal action if Beyond Menu did not stop using his company's name or trademark. He went one step further, and asked to be removed from Beyond Menu's database.
Beyond Menu took down the misleading site (check out the archived page here). The current page on Beyond Menu shows that online ordering through the Beyond Menu page is not enabled. Customers who want to place online orders can go right to the restaurant's website, click on the noticeable "Order Online" button and choose from the extensive menu. Order go through the Orders2.Me system right to the Kosher Deluxe point-of-sale system.
Now, with his Google My Business listing back under his control, customers can order with the assurance that their orders are accurately priced, and Mr. Weiss has seen the online orders for Kosher Deluxe return to the projected numbers.
What You Can Do About It
Although Postmates is a particular issue that can't be corrected easily, there are some steps you can take to minimize the problem with other third-party apps, particularly ones like Beyond Menu.
First, you can request ownership of your Google My Business Page. If a third party has already claimed it for you, you can open a support ticket and make sure that you're the one verified on the business. Unfortunately, this issue is widespread. Beyond Menu alone operates over 5,500 restaurant sites, meaning that they have dug in deep.
Second, like Mr. Weiss, send the third party a cease and desist later. This will force them to face legal consequences for their actions.
>>>Download a FREE cease and desist letter template here.
Third, you can provide your own proprietary delivery service. Rather than relying on third-party companies to take part of your earnings from your own customers, you can make sure that all of the money stays in-house. Remember, the orders aren't coming from people getting food from Beyond Menu (or Postmates). Customers think that they're ordering from your restaurant directly. Essentially, these 3rd party delivery services and ordering portals are stealing money from you when you're the one doing all the work!
Partner With Orders2.Me Today
Setting up an online delivery service should be adding value to your business, not taking money out of your pocket. With Orders2.me, you set up a portal that you control. It's a flat-rate based system that allows you to create a delivery menu that you can adjust on your own.
You control what's offered, your fees, as well as elements like pricing and delivery times. You know what food products are going to travel the best, so make sure that your customers are getting something that will represent your brand the right way.
Contact us today to find out how to get started and how to reclaim your business from 3rd party delivery services and apps that are just trying to make a buck off of your hard work. We work with you to ensure that you're satisfied, and you get to control how and when you make money with delivery. See how it can transform your restaurant today.