Yelp and Grubhub: Restaurant Ordering App Scam?
Recently, a famous portal Vice uncovered a scam by Yelp and Grubhub. As you may know, Grubhub is an app for ordering food online. This restaurant ordering app is rather popular and has many satisfied clients (both restaurants and customers). They boast that they serve over 20 million active diners and that they process almost 500,000 orders every day. This data sounds impressive so it comes as no surprise that they decided to partner up with the Yelp platform. Yelp is a famous directory, where you can find everything you need to know about a local business. It includes contact numbers, addresses, and reviews.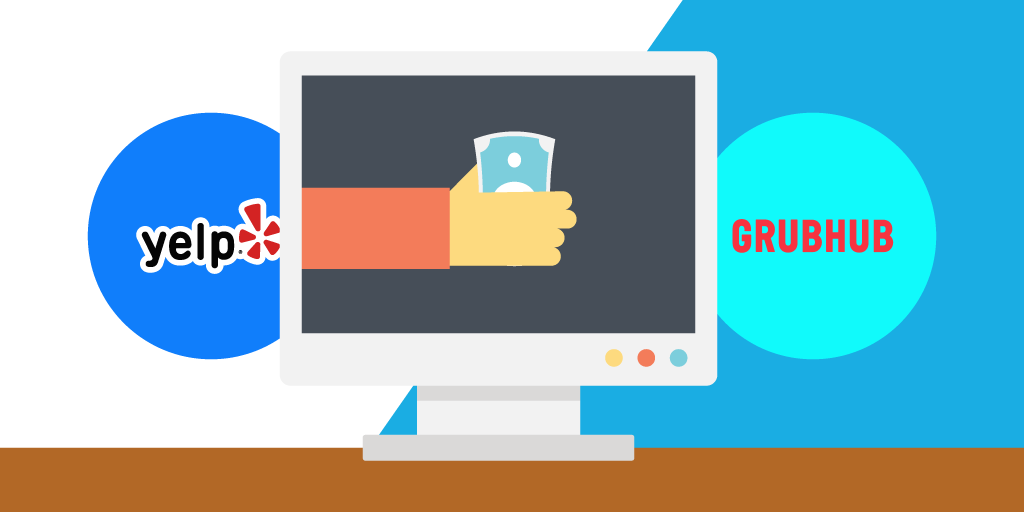 How it all began
In 2018, Grubhub and Yelp announced a partnership. Grubhub's restaurant network was integrated onto the Yelp platform. This was a great business move for both companies. The expectation was that Grubhub and Yelp will benefit from such an integration.
However, it wasn't too long before the first controversies appeared. A couple of months ago it was discovered that Grubhub has been buying tens of thousands of domain names that resemble those of businesses they either work with or are pitching to get on the platform. These domains used a landing page that was similar to those of the restaurants they imitate. In addition, they contained an online ordering form. However, these sites have no connection with the restaurants in question.
Once this poor business practice was discovered, restaurant owners voiced their concerns over Grubhub's business tactics. Such predatory practices were harming them since customers believed that they are genuinely ordering from restaurants. Additionally, as a restaurant ordering app, Grubhub charges from 3 to 15 percent commission fee, but since people order from these fake websites that they classify as their marketing tactics, they can add up to 20 percent on a single order.
Grubhub denied wrongdoing and explained that everything they did was a way to boost restaurant orders. Also, they claimed that this was a service they no longer provide.
New scandal
Soon after this happened, another scam was discovered that was a part of marketing efforts by Grubhub. As it was mentioned, Yelp and Grubhub announced partnership and when you search for restaurants, there are two ways in which you can place an order. One way is to click on the option Delivery or Takeout. The second option is to click on the option General questions. Both of these phone numbers allegedly belong to the restaurant, however, they don't. The first number (Delivery or Takeout) is different from the official number and that's because that's how Grubhub can track it as a marketing call. This allows Grubhub to take up to 30 percent commission. The standard fees that range from 3 to 15 percents.
These findings encouraged many to check some other aspects of Grubhub's business practices. This is how people discovered that Grubhub is taking commission even when there is no order. For example, if customers are calling for information about allergies or restaurant hours and address, Grubhub is billing the restaurant.
All of this has led many restaurant owners to start thinking about other options they can use for online ordering. There are too many scandals related to Grubhub's services and business practices.
What's the solution?
If these scandals are affecting you or if you are thinking that online ordering offers no real benefits, you shouldn't give up just yet. Even though there are some bad business practices related to online ordering, this type of service where you offer your food to customers where and when they want it is the future of every successful restaurant.
The solution to this problem is a simple one – get a custom online ordering app that will suit your needs. This way you will not have to worry about commission fees or platforms scamming you. You are completely in control of each and every order and there are so many benefits that it is hard to mention all of them.
Not only will you be able to nurture customer relationships, you will also be able to clearly track results and create business plans based on real reports. With custom online ordering app, you can even track which dishes are the most popular and which ones should be replaced.
If you are ready to get a custom ordering app for your restaurant, don't hesitate to get in touch with Orders2Me today. Our team of dedicated professionals will answer all of your questions so you will know exactly what you are getting when we start working on your custom ordering app.
Contact us today and start thinking about your online ordering app.