When Is the Best Time to Use Social Media for Your Restaurant?
The internet has exploded in such a way that life will never be the same. One of the things that makes the internet so great is that it can level the playing field for small, local restaurants that compete with the larger, more recognizable chain restaurants.
Social media is one tool that some restaurants may not use enough while others go completely overboard with it. You may be wondering why you should use social media and how you should balance viable posts, too many post and not enough.
Discover the best times to post to your social media accounts for optimal effectiveness.
Why Use Social Media?
There are so many great reasons that you should turn towards social media for your restaurant. The first is that it's a great public relations tool that allows your fans to market your restaurant for you for free. People who use social media are influencers over friends and family who connect with them on social media.
If you have a social media account, you know that brands your friends interact with show up in your feed. This, in turn, introduces you to new companies, products and services. Your fans are your biggest non-monetary source of marketing for you because if they love your restaurant, they are going to interact with your posts.
Another reason to use social media is that it helps to remind your fans of why they enjoy your restaurant. When you post a picture of a new dish you're featuring that month, a takeout special, or food event that your restaurant hosts, you give your followers notice about coming back to dine with you again. It keeps you fresh in their minds amid all of the choices out there.
Thirdly, use social media for your restaurant for feedback and customer service. People love knowing that a brand is listening to what they have to say. Interacting with your customers is a good way to show this to everyone, especially through social media.
When Should You Post to Social Media?
The timing of your posts to social media is very important. You want to make your posts early enough that it gives social media users time to make plans to go to your restaurant, but not so early that they will forget about your place. Keep in mind that social media posts have a very short shelf life, and some posts may not stay viable for even a couple of hours.
Your scheduling depends on the type of item you want to promote. A weekly event, like a trivia night or discount takeout, is an item you want to post about often and in advance of the event. You don't want to post about an event just a few hours before, especially if this is the first time you're hosting the event. You want to give people enough time to react to the information.

An event like participating in the best pizza contest should receive posts when you have new information about it. When you sign up for the contest, you can start building some hype about it. As each milestone occurs, continue posting about it.
Tips on What to Post
The beautiful thing about posting to social media for your restaurant is that you can post about a wide variety of things that keep your followers interested. Your posts help pique the interest of others not familiar with your restaurant as you gain more loyal followers.
– Use social media to show off your menu because people eat with their eyes before they take that first bite. Pictures of your food can be a powerful motivator to make people want to dine or get takeout.
– Any new posts to your blog or updates to your website deserve a shout out to social media to let people know about it.
– Food events in which you're participating are another great social media opportunity. Let people know about your stand or food truck at the football rally or other local events.
– Show off your specials to entice people to come into your place.
– Post pictures of your guests enjoying parties in your restaurant or invite them to post pictures of their takeout meal at home.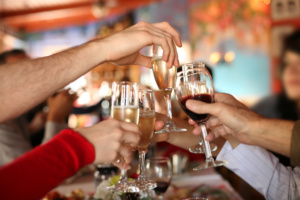 – Use social media as a sounding board to get information about what your guests love and want. Create fun polls and contests with your followers asking their opinion on new potential dishes or drinks. This is a great way to see how your base receives your ideas for promoting your restaurant.
Social media is a valuable asset for your restaurant when you use it correctly. That means signing up for an account and then continuing to remember to use it. It's easy to lose track of posting to your restaurant's social media account with everything that you have going on while running your restaurant. A good idea is to create a list of things that you'll want to keep people aware of and follow it as you create posts.
Need help with your online presence with your website or want to start offering online ordering? Contact us today about how we can get your restaurant started.